DISCLAIMER: PLEASE READ CAREFULLY ON BOTTOM OF THE PAGE
Corneal Cross Linking (CXL)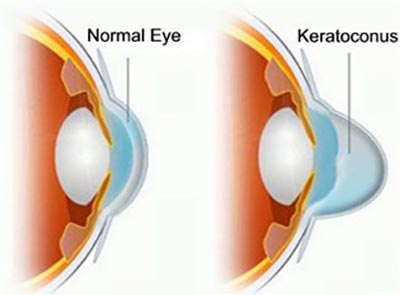 Corneal cross-linking, commonly referred to as CXL, is the name of an eye procedure that strengthens the cornea of your eye that has typically been weakened by keratoconus, LASIK surgery or other corneal diseases. Corneal cross linking is also referred to as C3-R, CCL, KXL and corneal collagen cross linking.
There are two basic kinds of corneal cross linking: epithelium-off CXL and epithelium-on CXL:
In epithelium-off CXL, the epithelium (the thin outer layer of your cornea) is removed.
In the epithelium-on CXL procedure, which is also known as transepithelial CXL, the corneal tissue layer of your eye is left intact.
The CXL procedure can be combined with other treatments for the treatment of keratoconus. For example, CXL may be combined with intacs, which are tiny arc-shaped corneal inserts implanted in your eye to help stabilize and reshape the cornea in more complicated cases of keratoconus.
All symptoms, potential procedural/surgical options should always be discussed with your physician after a thorough consultation and examination  for an accurate diagnosis and treatment plan.
Reasons for the Procedure
Keraotconus is a type of progressive eye disease in which your normally round cornea thins and starts to form a cone shape. This cone shape bends light as it enters your eye, causing blurred or distorted vision. Keratoconus may occur in one or both eyes and can begin as early as your teenage years or early twenties.
The corneal cross linking procedure delivers the best results when it's performed before your cornea has become too abnormal in shape or too thin — before keratoconus or other causes have caused significant vision loss. CXL can improve the shape of your cornea if performed early, resulting in improved vision and a greater likelihood that you can wear contact lenses effectively.
Other potential uses of the CXL procedure are for treating:
Corneal ulcers that topical antibiotics couldn't cure
Corneal infections that less invasive procedures couldn't treat
The CXL Procedure
Your eye doctor measures the thickness of your cornea to make sure you're a good candidate for the CXL procedure. Your doctor also may recommend a routine eye exam to determine your general eye health. Your doctor may also perform a corneal topography, which is a mapping of your cornea, to gauge the condition of your eye's health.
Minimally invasive, the CXL procedure involves the application of liquid riboflavin or vitamin B2 to your eye's surface. After that, your cornea is treated with controlled ultraviolet light to eliminate corneal ectasia — the abnormal growth or coning of your cornea. The CXL procedure can take anywhere from 60 to 90 minutes.
In the case of epithelial-off cross linking, your eye surgeon removes the epithelial layer of your cornea. Riboflavin (B2) eye drops are then applied. For an epithelial-on cross linking, riboflavin drops are placed in the eye at the beginning of the procedure, right after you're placed in a reclining position.
Your surgeon evaluates your eye to make sure the cornea contains the proper amount of riboflavin. The corneal thickness is also examined. Then, a UV light applied to the affected eye for up to 30 minutes. At the end of the procedure, a bandage contact lens is placed on your eye, followed by a prescription of anti-inflammatory and antibiotic eye drops.
Risks and Side Effects
The corneal cross linking procedure may cause eye irritation initially. The surface of your eye and tear film recover over the course of several weeks. Additional risks and side effects include:
Sterile infiltrates and corneal scarring
Infectious keratitis (including bacterial, herpetic and protozoan)
Diffuse lamellar keratitis (DLK) in some post-LASIK patients
Temporary swelling and inflammation in up to 70 percent of patients
Temporary haze about 100 percent of the time
Permanent haze in the affected eye for up to ten percent of people
So you can expect temporary side effects while your eye heals. That's normal. After several weeks, your eye should be noticeably better than it was before the procedure.
Results of the CXL Procedure
Studies have found that 99 percent of patients remain stable or achieve improvement in their corneal shape in both epithelial-off and epithelial-on CXL. This success rate is significant for people who have progressive keratoconus that ordinarily leads to severe loss of vision.
Radial keratotomy has also achieved reasonable results in improving cornea stability. Radial keratotomy is an incisional refractive procedure that was popular from the 1980s and 1990s. Cross linking seems to work best for people who experience daily vision fluctuations.
And the Research Continues
One concern of scientists and eye doctors is whether epithelium-on CXL has the same results as cross linking surgeries where the epithelium is removed (as is the case with epi-off CXL). There is strong observational evidence for the role of corneal cross linking. This data is supported by randomized, controlled clinical trials, according to The American Academy of Ophthalmology (AAO). The most consistent finding in studies is that corneal cross linking induces a small decrease in keratometry levels over the course of a year. This is a significant finding as progressive keratoconus keratometry generally rises over time and is an indicator of progression of the disease.
The goal of therapy is to reverse or halt keratoconus or any other progressive conditions, but not all of the studies have clearly defined what "progression" means. Many studies don't define it as a starting point of enrollment, or they've defined it in such a way that's unacceptable to ophthalmologists. In other words, because there is a varying degree of how progression is defined, it's important that a study defines it so you can understand the end results. However:
In a study conducted in Europe, a riboflavin formulation was developed (Ricrolin TE) to more easily penetrate the corneal epithelium to facilitate epithelium-on CXL.
In the United States, researchers have observed visual results from epi-on CXL procedures that are similar to epi-off CXL procedures.
The advantages of epithelium-on CXL procedures include a lower risk of infection, fewer days in healing, and less corneal haze. Though some studies report outcomes where epithelial-off CXL is better in younger candidates than people over the age of 35, this outcome doesn't appear to be an issue with transepithelial CXL. The epithelium-on CXL procedure typically results in less discomfort and faster visual recovery.
All symptoms, potential procedural/surgical options should always be discussed with your physician after a thorough consultation and examination  for an accurate diagnosis and treatment plan.
Important Reminder: This information is only intended to provide guidance, not a definitive medical advice. Please consult eye doctor about your specific condition. Only a trained, experienced board certified eye doctor can determine an accurate diagnosis and proper treatment.
Do you have any questions about Corneal Cross Linking (CXL) Procedure? Would like to schedule an appointment with the best rated NYC Ophthalmologist or Optometrist, Dr. Saba Khodadadian of Manhattan Eye Specialists, please contact our office for consultation with New York Eye doctor.
Manhattan Eye Specialists
Dr. Saba Khodadadian, Optometrist (NYC Eye Doctor)
983 Park Avenue, Ste 1D19
New York, NY 10028
(Between Madison Ave & Park Ave)
☎ (212) 533-4821
DISCLAIMER: PLEASE READ CAREFULLY
The information on this website is to provide general guidance. In no way does any of the information provided reflect definitive medical advice and self diagnoses should not be made based on information obtained online. It is important to consult a best in class Optometrist or Ophthalmologist in NYC regarding
ANY and ALL
symptoms or signs as it may a sign of a serious illness or condition. A
thorough consultation
and examination with an eye specialist should
ALWAYS
be performed for an accurate diagnosis and treatment plan. Be sure to call your local eye doctor or call our office today and schedule a consultation.