DISCLAIMER: PLEASE READ CAREFULLY ON BOTTOM OF THE PAGE
During your first eye exam, your local New York optometrist or ophthalmologist takes a complete family history, paying particular attention to chronic conditions that run in your family and family members who have had eye diseases. A thorough eye exam can take anywhere from 30 minutes to an hour, depending on the breadth of tests you undergo. At Manhattan Eye Doctors & Specialists, a top rated optometrist in New York City, leading optometry specialist Dr. Khodadadian and Dr. Richard L. Deluca, an opthamologist in NYC offers varying eye care treatments from simple vision test to the most complex eye surgeries.
Eye Exam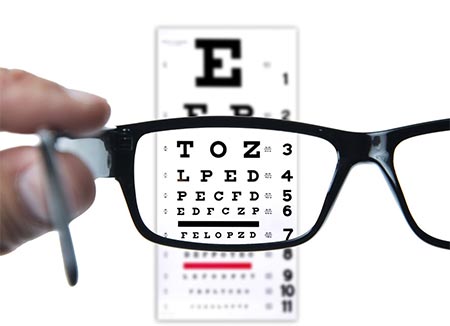 An eye exam is a painless process done to check a number of different aspects of your eyes' health. The most discomfort you may undergo during a routine eye examination is having a bright light shined in each eye or a puff of air blown on your eyes. Otherwise, tests performed on your eyes are all done with an array of tools that won't actually touch your eyes.
Regular eye exams help you maintain good vision by alerting your local optometrist NYC or ophthalmologist about any potential problems you may have that aren't even giving you any current problems. Catching abnormalities early usually help you save your vision. Conditions that can be discovered in an eye exam before you experience symptoms include:
Ideal Schedules
A regular eye exam also gives your eye care professional the opportunity to give you tips about caring for your eyes, as well as guidance for the right kind of prescription you need if your vision warrants corrective action. When and how often you need an eye exam is determined by your age, general health and current vision problems or pain. Some general guidelines for eye exams include:
Under three years old — only if your child's eye movement seems erratic (a possible sign of lazy eye)
Between the ages of three and five — first comprehensive eye exam
By the first grade — if there is no family history of eye disease or if your child has no symptoms of poor vision
Adults — every five to 10 years, if you're under 40 and have no issues with your vision
Between the ages of 41 and 64 — every two to four years on average
Over the age of 65 — every one to two years
Have your eyes checked annually if you:
Wear contacts
Have an underlying condition that puts you at high risk of developing eye problems (such as diabetes or high blood pressure)
Have a family history of eye disease and vision disorders
Choose Your Provider
Whom you visit for an eye exam depends on whether you have an eye disease or condition that puts you at risk for vision loss. If you just need a routine exam or a prescription for eyeglasses or contacts, for example, visit an optometrist for a thorough eye exam to evaluate your sight and provide you with a prescription for glasses or contacts. Opticians can fill those prescriptions and make your corrective lenses.
An ophthalmologist NYC, on the other hand, is a medical eye doctor who completed all the rigorous training expected of all other MDs. An ophthalmologist also can give you an eye exam and prescribe corrective lenses. More important are the other skills such eye doctors possess. They can:
Diagnose the most common eye disorders
Treat complex eye abnormalities
Perform eye surgery
The Day of the Exam
During your first eye exam, your eye care or ophthalmology NYC provider takes a complete family history, paying particular attention to chronic conditions that run in your family and family members who have had eye diseases. You're then asked to remove your contact lenses, if you're wearing them, or take off your glasses. You may have some drops placed in your eyes to dilate your pupils for a retinal exam. The battery of tests during your exam may include:
The visual acuity test measures how well you see. This is the test that uses the big eye chart on a far wall, called a Snellen chart. Each eye is tested separately during this process by covering up one of your eyes while you continue to read the lines of letters on the chart.
Your New York City optometrist or ophthalmologist has you follow his finger with your eyes without moving your head to test your eye muscle strength.
You may be asked to identify different colors on a chart if your optometrist or ophthalmologist in NYC suspects you have color blindness.
A refraction assessment is done through various techniques. Basically, it involved shining a light into your eyes from different angles to check for refractive error.
A visual field test, or perimetry, tells the optometrist or ophthalmologist if you have difficulty seeing any particular area within your whole field of vision. He may just have you cover one eye and then tell him when his finger moves into sight, or you might look through a machine and watch lights turn off and on.
A glaucoma screening test is called tonometry and usually is done by a small instrument that blows a puff of air into your open eye.
After the Exam
A thorough eye exam can take anywhere from 30 minutes to an hour, depending on the breadth of tests you undergo. If you've had your eyes dilated, it's best if you can get someone to drive you home because your vision may remain blurry for a while. You can get most test results right then and there before you leave. If you need corrective lenses, like contacts or glasses, most eye doctors have an array of choices on hand.
If all your tests are normal, your diagnosis should include facts such as:
20/20 vision
Peripheral vision that is accurate
A strong ability to identify colors
Structure of your eyes appear normal
No diseases found
If, on the other hand, you got your exam from an optometrist who detects possible abnormalities that could lead to vision loss or other negative consequences, you're referred to an ophthalmologist for further testing and treatment.
Final Caveat
Trending in many places is the online eye exam, where you can get what is touted as a "complete eye exam" without even leaving your home. While valid for basic visual testing, understand that an online eye exam in no way covers the health of your eye. Taking an online eye test can, however, provide you with enough information to get a prescription for corrective lenses.
An online exam might be useful if:
You're traveling and can't get to your regular optometrist or ophthalmologist
You want to monitor your vision between eye doctor visits
You maintain your regular eye exams with a qualified eye care professional to test the health of your eyes
Important Reminder: This information is only intended to provide guidance, not a definitive medical advice. Please consult eye doctor about your specific condition. Only a trained, experienced board certified eye doctor can determine an accurate diagnosis and proper treatment.
Do you have any questions about Eye Exam and Vision Test in NYC? Would you like to schedule an appointment with Midtown Manhattan ophthalmologist Dr. Richard L. Deluca or optometrist Dr. Saba Khodadadian of Manhattan Eye Doctors & Specialists? Please contact our office for consultation with the best in class NYC Eye doctors.
Manhattan Eye Specialists
Dr. Saba Khodadadian, Optometrist (NYC Eye Doctor)
983 Park Avenue, Ste 1D19
New York, NY 10028
(Between Madison Ave & Park Ave)
☎ (212) 533-4821
DISCLAIMER: PLEASE READ CAREFULLY
The information on this website is to provide general guidance. In no way does any of the information provided reflect definitive medical advice and self diagnoses should not be made based on information obtained online. It is important to consult a best in class Optometrist or Ophthalmologist in NYC regarding
ANY and ALL
symptoms or signs as it may a sign of a serious illness or condition. A
thorough consultation
and examination with an eye specialist should
ALWAYS
be performed for an accurate diagnosis and treatment plan. Be sure to call your local eye doctor or call our office today and schedule a consultation.