DISCLAIMER: PLEASE READ CAREFULLY ON BOTTOM OF THE PAGE
Glaucoma Surgery (Trabeculectomy)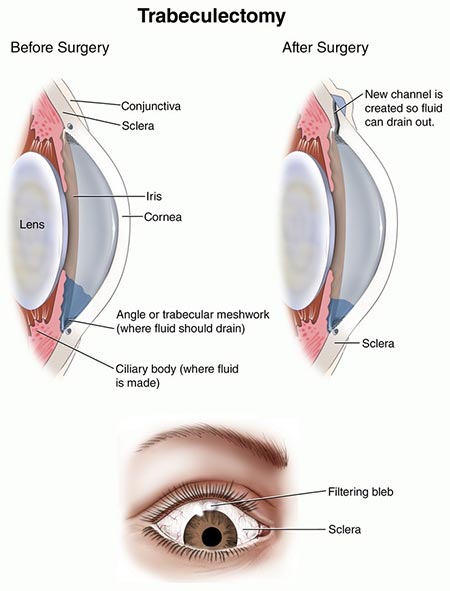 Glaucoma is the term describing a group of eye diseases associated with damage to the optic nerve, the nerve that connects your eye to your brain and transmits signals back and forth. Glaucoma is the leading sign of irreversible blindness and often appears without warning, with no symptoms. When glaucoma appears, it's often too late, and vision loss has already begun.
Some mild forms of glaucoma can be treated with eye drops, and there are many surgical procedures to treat glaucoma. Trabeculectomy is the most common non-laser surgical procedure.
All symptoms, potential procedural/surgical options should always be discussed with your physician after a thorough consultation and examination  for an accurate diagnosis and treatment plan.
The Trabeculectomy Procedure
Trabeculectomy is a surgical procedure that reduces the intraocular pressure (IOP) that exists inside of your eye if you have glaucoma. Trabeculectomy is performed by cutting a small hole in the sclera (the wall of your eye) and covering the opening with a thin flap that acts like a trap-door. This allows the liquid (called the aqueous humour) to drain from your eye. It drains into a bleb or small reservoir just under the eye's surface that's obscured by your eyelid.
The trap door is stitched in such a way so that it prevents the fluid from draining too rapidly. By draining the fluids in your eye, the surgery is effective in reducing pressure on your optic nerve. The procedure also slows down or prevents further damage and loss of vision. Unfortunately, trabeculectomy surgery doesn't restore vision already lost due to glaucoma.
Laser Surgery for Glaucoma
Laser surgeries have become increasingly effective and popular in treating various types of eye problems and diseases, including glaucoma. There are several types of laser surgery to treat glaucoma, depending on your form of glaucoma and its severity. Laser surgeries are outpatient procedures done in a doctor's office or clinic.
Laser surgery works by focusing a beam of light that burns a small opening in your eye tissue. The strength of the beam can be varied to cut through thicker tissues. The most common types of glaucoma laser surgical procedures include:
Argon Laser Trabeculoplasty (ALT): ALT treats primary open-angle glaucoma (POAG). POAG is the most common form of glaucoma, present in one percent of all adults over the age of 50, according to The Glaucoma Foundation. It's referred to as the "silent thief of sight" as it appears without warning. The ALT laser treatment opens the fluid channels of your eye, helping it drain better. This procedure typically is supported by other medication treatments. In most cases, only half the channels are treated; your other fluid channels can be treated in a separate session. This prevents over-correction and decreases the risk of eye pressure building up after the surgery.
Selective Laser Trabeculoplasty (SLT): SLT also treats POAG. SLT works by treating "selective" cells with low levels of energy (a weaker laser). It leaves untreated areas intact, and thus can be safely repeated if necessary. SLT is often an alternative for patients who have been treated unsuccessfully with eye pressure-lowering drops or an ALT laser treatment.
Laser Peripheral Iridotomy (LPI): LPI treats narrow-angle glaucoma or angle-closure glaucoma. This type of glaucoma occurs when the angle between your cornea and iris is too small, which causes your iris to block fluid drainage naturally, increasing the pressure in your eye. LPI cuts (or burns) a small hole in your iris, allowing fluid to drain from the new hole.
Laser Cyclophotocoagulation (CP): This is an alternative to filtering microsurgery typically used later in the treatment process. In this procedure, several different types of lasers are used to inhibit your eye's ability to make fluid (which occurs in the ciliary), and thus lowers the pressure in your eye. The procedure is also used to prevent glaucoma and may require repeated treatments to control glaucoma permanently.
The LPI and ALT forms of glaucoma surgery produce a slight stinging sensation. A local anesthetic is applied to the eye for SLT and CP laser surgery to numb the eye. Once numbed, you shouldn't feel any discomfort or pain.
Benefits of Glaucoma Laser Surgery
Glaucoma laser surgeries work to lower intraocular pressure in your eyeball. There are many factors that determine the length of time your IOP remains lowered. These factors include the type of surgery, type of glaucoma, age, race and other factors. Some people may have to repeat surgical procedures to control their IOP.
The recovery time for glaucoma laser surgery is very brief. Typically, you can resume normal daily activities as early as the day after laser surgery. You may experience blurry vision and irritation right after the surgery, so you should arrange a ride home after the procedure.
Risks and Results of Glaucoma Laser Surgery
All types of surgery carry some risks, and laser surgeries are no different. Some patients report a short-term increase of IOP soon after their surgery. Others experience too much liquid reduction that affects their eye's shape and metabolism. Anti-glaucoma medications can be used before and after to reduce these risks.
There is a small risk or side effect of cataracts forming after glaucoma surgery. However, these risks are so small that the benefit of glaucoma surgery far outweighs the risks of developing cataracts. It's important to talk to your doctor about all the different forms of glaucoma surgeries and the potential risks involved.
According to the National Institutes of Health (NIH), a study was conducted where 21 people received glaucoma eye surgery. The results, recorded over a three-year span, found that IOP reduced by nearly 25 percent in 16 of 18 eyes (not all participants returned for the results). It should also be noted that the development of cataracts in some is a risk factor that you need to know about prior to surgery.
Glaucoma Prevention
There is no known way to prevent glaucoma; however, significant vision loss from glaucoma can be prevented if the disease is diagnosed and treated in the early stages. Glaucoma is a slow and progressive disease. It typically affects your peripheral vision first, and as it grows, your central vision may be lost. Glaucoma medications in eye drops work to slow the progress of the disease.
Studies show that even moderate exercise like walking or jogging three or more times a week can result in lowering your intraocular pressure. These benefits only last as long as you continue exercising. It's also recommended that you avoid exercising in inverted (upside down) positions, like doing headstands or shoulder-stands, as these can increase your IOP. If you have any concern about starting a new exercise program, talk to your doctor.
All symptoms, potential procedural/surgical options should always be discussed with your physician after a thorough consultation and examination  for an accurate diagnosis and treatment plan.
Important Reminder: This information is only intended to provide guidance, not a definitive medical advice. Please consult eye doctor about your specific condition. Only a trained, experienced board certified eye doctor can determine an accurate diagnosis and proper treatment.
Do you have any questions about Glaucoma Treatment or Trabeculectomy Surgery? Would like to schedule an appointment with NYC Ophthalmologist or Optometrist, Dr. Saba Khodadadian of Manhattan Eye Specialists, please contact our office for consultation with NYC Eye doctor.
Manhattan Eye Specialists
Dr. Saba Khodadadian, Optometrist (NYC Eye Doctor)
983 Park Avenue, Ste 1D19
New York, NY 10028
(Between Madison Ave & Park Ave)
☎ (212) 533-4821
DISCLAIMER: PLEASE READ CAREFULLY
The information on this website is to provide general guidance. In no way does any of the information provided reflect definitive medical advice and self diagnoses should not be made based on information obtained online. It is important to consult a best in class Optometrist or Ophthalmologist in NYC regarding
ANY and ALL
symptoms or signs as it may a sign of a serious illness or condition. A
thorough consultation
and examination with an eye specialist should
ALWAYS
be performed for an accurate diagnosis and treatment plan. Be sure to call your local eye doctor or call our office today and schedule a consultation.